Rasa Smite and Raitis Smits are pioneers of network culture. In the mid-90s they began working with sound over internet together with artists across the continent, which gave rise to the Xchange streaming project. Still active in the RIXC centre in their hometown Riga they annually organise the Art and Communication festival which in the recent years hosted artists exploring the electromagnetic fields, politics of frequency spectrum, future of terrestrial energy, or transbiotics. In a short interview we talk about their discovery of electronic culture.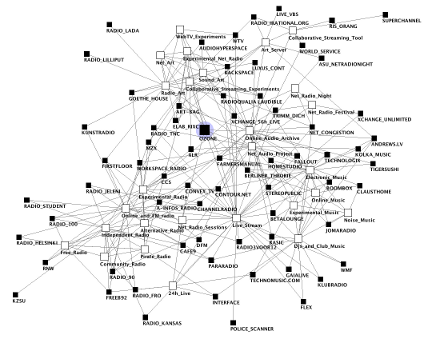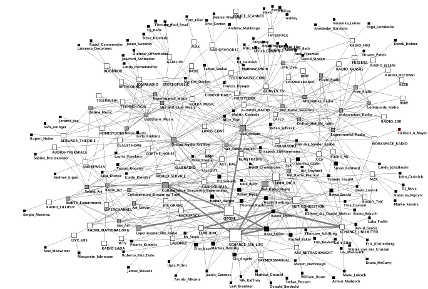 In 1996 together with Jaanis Garancs you started the electronic arts and media centre e-lab in Riga. Can you describe where did the idea came from and why it was important for you personally? How did you happen to work with media (or rather, "think media"), maybe coming back to your first contacts with internet, and even with a computer?

Raitis: By that time me and Rasa had worked together making installations and video. Then it happened almost at once, we discovered the internet thanks to our jobs. At that time I was working in national television and Rasa – in newspaper and there was access to computers and we attended the conference Interstanding conference in Tallinn organized by Soros Contemporary Art center in Tallinn. Ideas we heard there opened a completely new perspective in arts and culture at large.

Rasa: Interstanding conference in Tallinn was the first time when we heard something more about the internet, also that it is possible to make art online. After graduating Latvian Arts Academy in the beginning of the 90s, where we've got very traditional education, contrary to it, we were very open to experiment with different new forms, ideas, materials, media. Like Raitis said, we started to make exhibitions, installations, etc., in the context of contemporary arts. But as contemporary arts scene in Latvia, like in other Eastern European countries, was brought in by Soros Foundation and their policy, also because there was dominating curators' practice – to choose artists, and third, because contemporary arts world lacked the communication aspect, all artists were working individually, rather isolated, -- it didn't satisfy us at all. Tallinn's conference was a big turn in our thinking and it influenced our later activities – we learned there that that new media contain that potential for creative self-expression which we were looking for in our creative work. First of all, it offered new space – unexplored, imaginary, without boundaries – for artists to work, communicate and experiment with new forms in arts. Second important facet was communication and information exchange – after living in information vacuum in Soviet period, we finally could obtain information about activities and events, which we are interested to take part, like media art festivals, as well as to meet other similary thinking people and to work together with them. Establishing new collaborations between Western and other Eastern European artists, which now was possible due internet, was very important facet too.

Thus Tallinn's conference Understanding Interactivity opened up our minds, and we straight away decided to found an electronic arts laboratory in Riga.

Raitis: People we met at that conference later become our good friends, advisers and collaborators, among them Geert Lovink, Eric Kluitenberg, Alexei Shulgin, Richard Barbrook, Heath Bunting. This event was so intense and influential that on the way back from Tallinn we already knew that there has to be media lab in Riga and we are going to establish it.

Also what is interesting and significant is how we met with Janis Garancs, who is the third key member of e-lab. At that time he was studying in Stockholm and all we knew was his name and that he is the only Latvian artist who works with computers. We contacted him via e-mail and luckily he was interested in our idea to establish a media lab. For the first time in real life we met with him only after half a year working together. This was quite significant and very new way of collaboration and working together when sometimes you meet the person you have been working together over the net just after a longer period of time.

Networking and collaboration were those two factors which built the foundation for e-lab and our future projects. We started to collaborate on many levels, internationally of course we were part of the new network culture participating in many media art events and projects, locally we started to collaborate with individual artists by involving them in e-lab as well as giving lectures and inviting guest lecturers in Latvian Academy of Arts.

Many things were fascinating with the net, it was autonomous space for self expression, completely new tools and possibilities also made impact on aesthetics of the art process, possibility to create one's own infrastructure (e-lab was providing server space and e-mail accounts for local artists as well as internet access in artists union building where was located our lab).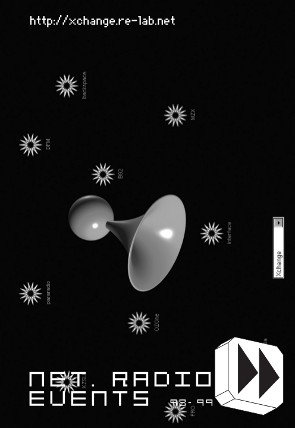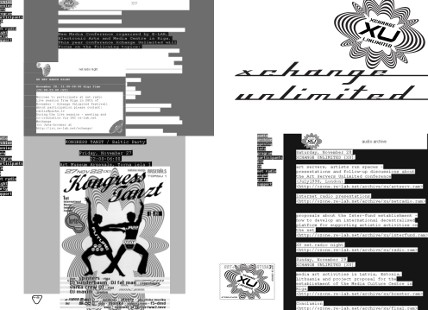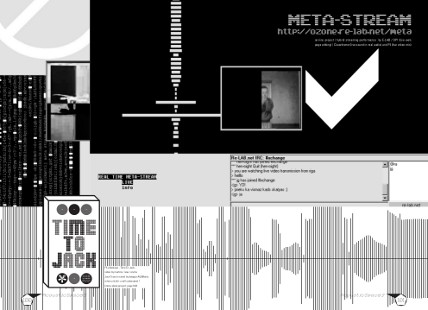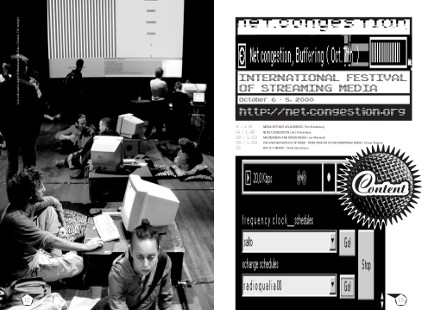 Can you talk a little about the "media culture" situation in Riga and Latvia in mid-1990s? Did you feel like you are "translating" international developments to the local context, re-connecting Riga to the network culture, or on the other hand – was there any historical awareness which you could be building on? Was there an awareness of earlier experiments with let's say machines, computers, telecommunications, sound, electroacoustics, or they were revealed later?

Raitis: I think because we had real keenness in exploring new digital media and potentials of the internet we started to use it in our practice and it quickly become more than just tools, I would say that it become also our way of life in a certain aspect. Most of our time we spent in the media lab developing ideas and learning new tools and we got interested in the process itself rather than only making things. I think that also explains why we started to work with realtime streaming and internet radio. Because of the horizontal structure of the internet for us as artists there was no need to be located in the metropoles in order to get international recognition and ability to collaborate. During the early period of net culture people in the periphery were even more active than in metropoles. Pit Schultz called Riga the capital of net radio.

In Soviet times all other artforms outside of so called social realism were not recognized and had a kind of underground status, however in the 80s there was artists group called NSRD established by two Latvian artists Juris Boiko and Hardijs Ledins. They are also known as one of the founders of the electronic music scene and also video art in Latvia.

Rasa: But we didn't refer to this scene of the 80s (Boiko, Ledins) directly, we only could make references to their work much later. In the beginning of the 1990s we finished Arts Academy with rather traditional fine arts background. Main more contemporary activities in arts field happened only around Soros Foundation and its contemporary arts center. All previous system – political, economical, arts and culture, was completely broken down. There was no social life in the city either, people didn't have money, and they didn't go out. Riga had a feeling of desert, of emptiness, and this was the time when finally grass-roots level and self-initiatives in local culture scene became active, and even visible. If in Soviet time, in art scene, there was just one artists organization – Artists Union, then in the mid-1990s various smaller self-organized groups of artists and other creative people started to establish their own NGOs, E-Lab in 1996 was one of the first such (legally founded) initiatives.

In the mid-1990s, there also new tendencies emerged that were influenced by global subcultures, such as techno music and DJs. It started with Kaspars Vanags and Ilze Black and their Open projects – large scale contemporary art and technomusic hybrid manifestations in Riga in 1995. These were not commercial raves (these appeared in the late 90s), but how Eric Kluitenberg has described them, they were not anymore "subculture", but rather events "manifestating fundamental changes in society". But there was not yet internet. In this sense e-lab was pioneering artists group, who in 1996 brought new media into Riga's new cultural scene. A little bit later, second half of 90ties, huge devision of other small scale grass-roots initiatives emerged, around club and DJ cultures, as well as internet, multimeda and VJ initiatives. Also for the first time, both young Russian and Latvian creative people were collaborating, this gap (between these two communtiies) perhaps was bridged, due the reason that this new culture didn't have historical roots, as it was influenced by global trends, contemporary art, new media, DJ and electronic music – the fields, which didn't need the language, it was not anymore a barrier. So very soon this scene in Riga started to grow and became very strong and interesting. It was the beginning of "media culture", however more precisly how we were calling – "contemporary and digital [media] culture" of Riga.

And what refers to "translation" is very right, this is what we still keep doing with RIXC, trying to bring international developments to local scene, for which it is very difficult to adapt them, as still all new technologies (as we don't invent them here, neither produce) seem rather alien and hostile. Therefore it always has been a challenge for us ourselves to live and work in Riga, and to develop "new media culture" scene there, and at the same time to work in international contexts.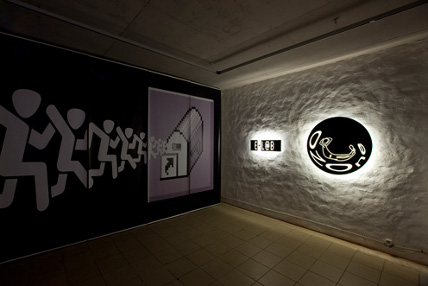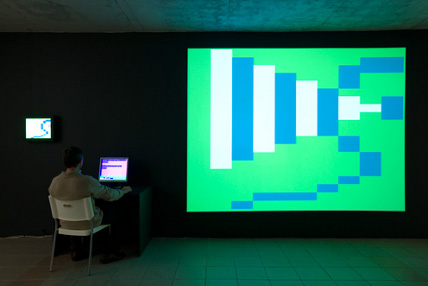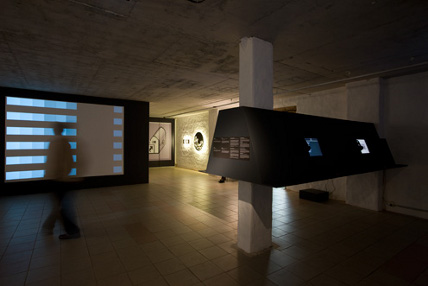 There was a big wave of cyberpunk literature, along with the dreams about immersion in 'virtual reality' and 'cyberspace'. What books did you read at that time, what inspired you, what was discussed over a coffee table?

Raitis: At the very beginning when we got involved with new media we started to organize regular gatherings of young artists, writers and musicians and I think we got influenced by the things each other is doing. There were midnight jam sessions with the open music studio idea behind which was introduced by a musician Ugis Vitins. Everyone was trying to play some instrument and on the top of that young poets were reading their poetry.

Of course I was also inspired by the Russian science-fiction authors such as Strugatsky brothers and their novel Roadsode Picnic later filmed by Tarkovsky as Solaris, but that was much earlier when I read the novel.

I also had a friend in the mid-80s who had access to the computers in the office of one company. I don't remember what company it was, but he had access and we were going there to play computer games at night. I also remember there was a dot matrix printer, we were making some silly drawings and printing them out. That was really something special for me at that time.

Rasa: These were not really books that inspired us that time. Foremost it was internet itself, for us a completely new medium with which to communicate to similarly thinking people outside of our country, a medium which helped to overcome Soviet time isolation and information vacuum that existed before. Besides that, we were artists, in terms of that we were really practitioners, we didn't make references to literature in our creative works, we believed, that art can communicate, that it can build autonomous spaces, that art as a practice, is far ahead any theory, especially, at least if it refers to exploring and conceptualizing new spaces such as internet. Thus internet radio experiments we mainly did in the 90s were created by following our artistic feeling, initution, desire to reveal and build up new (virtual and conceptual) space. Unfortunately we didn't know so well the context within which the internet emerged in the Western culture, neither books which we should have been reading, neither history of media art (if we would knew that there has been already other networked radio initatives before, like mini FM in Japan in the 80s, X-change would probably never happen).

But as we have already mentioned, what was special and new for us in the mid-90s was a new music – electronic, ambient, DJ mixes. It didn't need words, there was also no language barrier through this music, and at the same time, it was also kind of a code of a global subculture, thus it was also a key for international collaborations and networking. For us, having visual arts background, possibility to work with the sound in the cyberspace, seemed enough abstract and imaginative way for our self-expression, as well as for communication and networking with other creative people, who were working with the sound on the internet. And here comes our main inspiration source, which was a theory, in fact. It was McLuhan's notion of "acoustic space" – which was introduced by Erik Davis lecture in Riga Art+Comunication festival in 1997, where he looked at "acoustic space" concept from internet and electronic music perspective. This was for the first time when something of the theories we've heard inspired us so dramatically, that it became a leading inspiration source for our activities for many years. It opened up our imagination, and was not taken directly, but metaphorically, for building up X-change as an autonomous space. Even today when we have a different view and also read more media literature, the notion of acoustic space is always somewhere in mind.

Note: Full interview is to be published on Monoskop website, http://www.monoskop.org.